Meca Clutch
€139 ex. VAT
Additional clutch to Meca pedals
Description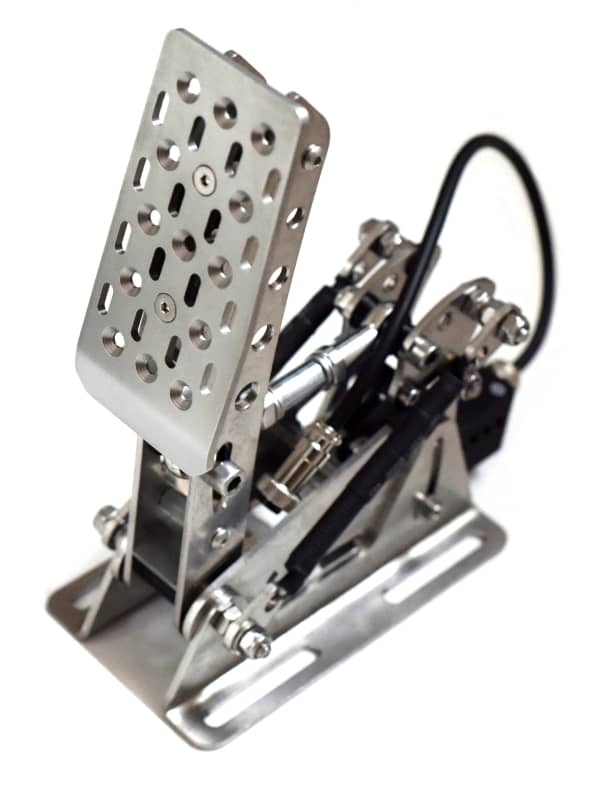 CLUTCH pedal
Stainless steel construction
Bronze slide bearing
Loadcell sensor
Custom board for signal conversion from loadcell (analog-digital)
The pedal can be adjusted both in height and longitude – Balotinated surface
Very strong construction, no unwanted movements or squeaks.
Excellent response to foot with adjustable personal preferences.
Made to last through the usage of loadcells, quality materials, electronics and bronze lathed components.
Pedal can be tilted forwards by loosening the rear screws in the round groove in the rear of the pedal. The grooves allow the pedal to tilt by 18°.
The pedal surface is treated with ballotin ( glass blasting), which increases the adhesion.
Clutch pedal operates on a cradle principle with pre-tensioned springs. The system works by depressing the pedal along a certain trajectory where at a given point the cradle tips over resulting in the reduction of pressure to the foot.
The pedal force can be adjusted by the pedal lever by repositioning it in its groove.
Solid construction, excellent control and a pedal feeling whilst accelerating just like in a real racing car..
WAHT'S INCLUDED
CLUTCH pedal- stainless steel construction
4 screw – M6 x 20
4x nut -M6
4x underlay – 6mm
Additional information
| | |
| --- | --- |
| Weight | 3 kg |
| Dimensions | 53 × 50 × 13 cm |